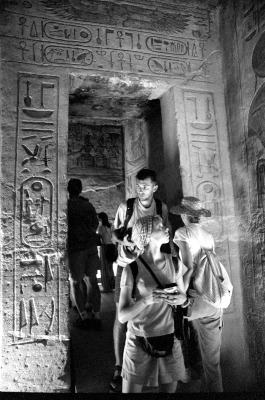 As we headed down to Abu Simbel, we saw the burned out remains of the coach that had crashed the night before, into what was left of the transport. I'd been told that the reason they drove with the lights off at light was so they could flash to awaken the oncoming drivers. If so, this didn't always work.
I preferred small vans or cabs over the large coaches. Besides avoiding the movies and their unnerving load and low-fidelity sound, you could get to know the driver and some of their stories. Or, as we did two years later, when you could only travel in convoy, you could enjoy the conversation as the driver pulled up beside the military escort, oblivious to any oncoming traffic that wasn't as large.
The inside of the mountain, where the temples to Ramses II and Nefertari now lie, is almost as fascinating as the temples themselves. It gives one the appreciation of the effort it took to move an entire mountain. But in the temples proper, I appreciated the lighting that set the mood in the temple and gave it mysterious charm. While I was there a tourist had their camera taken away for using their flash - knowing that the rules are there to protect the colour that still remains over 3000 years later, I well understood why. Colour was not my objective this day however.

Since digital was some ways off, I had no idea how well this shot had come off for at least a couple of months. The shot was pure reflex - a moment in time captured with an old Nikon FE and manual-focus lens on TMAX-3200.